Discover more from Epic Retirement
The secrets to a fulfilling retirement with practical advice, actionable strategies and true stories to help you achieve financial confidence, get and stay healthy and prepare for your epic retirement. Author Bec Wilson's independent newsletter.
Over 24,000 subscribers
Touring holidays, not just for the very old and the very young
I always thought touring holidays were for the very old and the very young. But what about active, energetic touring in your 40s, 50s and 60s, before you get older or slow down?
I always thought touring holidays were for the very old and the very young. But what about active, energetic touring in your 40s, 50s and 60s, before you get old or slow down? It wasn't something I'd given a lot of thought to until last week, when my husband and I left our nearly adult kids at home and headed on a tour of  the Red Centre. And it was far from what I expected. 
Thanks for reading Epic Retirement! Subscribe for free to receive new posts and support my work.
When we're young we embrace the idea of travelling in tour groups for the excitement of doing challenging things with 'people like us'. Companies like Contiki have raised a whole generation of adventurers striving to fit 6-10 countries into 28 days, trekking mountains, experiencing cities and partying their butts off in every town. At 25-30, we seem to grow out of this type of travel, or I did, anyway. Once I had kids and could afford to travel again after, I lurched into independent travel, hustling kids and my extended family on destination holidays, getting our thrills with activities like skiing and hiking but only picking off a couple of places to see at a time.
I didn't see myself picking up touring again until I got 'older' (47's not older is it? - I prefer to think I'm in my prime!). My thoughts were that as you age, touring is certainly an easier way to travel. Someone lifts your bags on and off the bus, walks you through destinations carefully looking after you, and you get dropped right at the door of your hotel each day and can be tucked in bed at a suitable time for the next day's adventures. 
But I'm not older and I'm perfectly happy to carry my own bags. In addition, I prefer to hike the hilltops, see the sunrises and adventure blindly through the backstreets of cities. How could touring fit with that? Turns out it can! 
The last time my husband and I went on a touring holiday was when we were 23, trekking through Africa for four weeks. 24 years later, here we were, joining a small group tour with Intrepid Travel through the West Macdonnell Ranges, Uluru and Kings Canyon. We opted for the 'comfort' level which saw us stay in hotels - not keen to sleep in tents in the dark of winter this time - we might be keen to in the right place, at the right time of year. But other than that we really weren't sure what to expect. So let me give you a quick wrap and some piccies. 
Day one saw us join a group of nine people, politely meeting in the hotel foyer to introduce ourselves and get to know our guide, Maurice, a 51 year old Dutch Australian who had moved to the Red Centre purely to host hiking and active tours. As we got to know each other, we realised how diverse, yet how interesting our group was, all between 45 and 69 in age, five were travelling solo and two travelled in pairs, ourselves included. Most of them had travelled with Intrepid before and had wonderful tales to tell of the people they'd met and the adventures they'd enjoyed throughout the world. They trusted this company like young people trust Contiki. We were two of only three Intrepid first-timers on the tour. It felt like we were headed off with a good lot. 
Day two and three saw us warming up to the group, learning the names and interests everyone had as we looped the West Macdonnell Ranges, stopping to spend time in the most picturesque places along the way visiting Simpsons Gap, climbing up the range in Ormiston Gorge, enjoying the lookout over to Mt Sonder and walking through the Ochre Pits before heading on the long drive to Kings Canyon. Our guide was also our coach driver, and whilst he led the group, he also became one of us.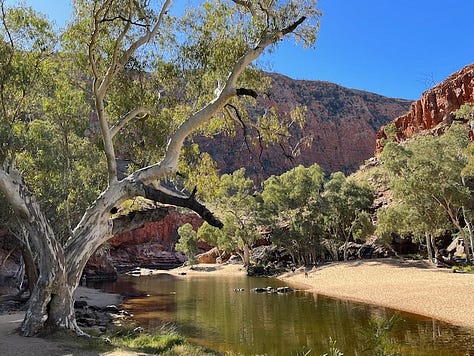 On the way we visited an indigenous cultural experience, and learnt about the children's stories, bush medicine and foods, witchetty grubs, jewellery making, dot painting and tools from local first-nations guides.  This was engaging, interesting and well-organised. I think all Australians would benefit from learning a little more about indigenous culture the way this is taught. From here we headed to a beautiful outback resort to enjoy the sunset in the outdoor bar, complete with live music. And by this time, we were all quite friendly with our tour buddies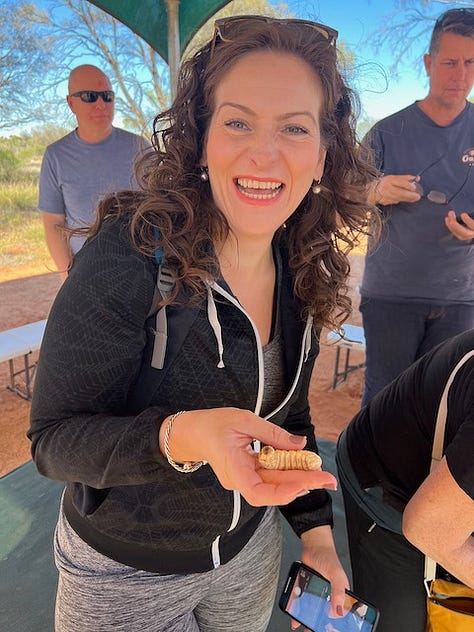 Day four and we were up at dawn headed to climb Kings Canyon and it was the opposite of my expectations. This was where I really got the point that Intrepid's tour really was geared to 'people like me' - moderately active, adventurous, curious people in their 40s, 50s and 60s. Perhaps not super-active, but able to push through 7kms of hiking up loose stone stairs and across the rock face capably. The guide insisted that those who were not as comfortable with the rather challenging climb take a lower concourse and meet us in three hours, and said without any uncertainty that he was leading the climb as that was what he was there to do. And that he did - with so much knowledge of the local area, indigenous history and flora and fauna that we were deeply engaged. In fact many of us were positively astounded that this Dutch Australian could know so much about our Red Centre. It was like he'd lived there for decades he knew so much.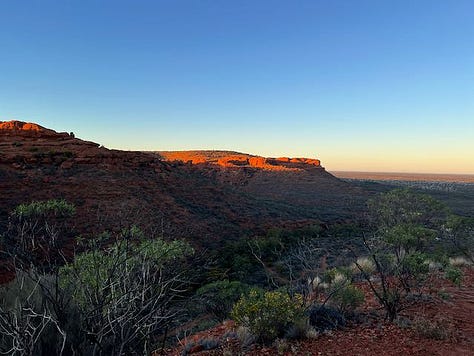 After the walk, we then headed straight for Kata Tjuta (formerly known as The Olgas) to see the massive rock formations up close, before heading to Uluru to see the sunset, and what a sunset it was. Blue skies, perfect crisp air and not a cloud in sight as we laughed together as a small intimate tour group, now comfortable in each other's company. So comfortable that we went to dinner all together that night in Uluru, even though our itinerary had us doing our own thing.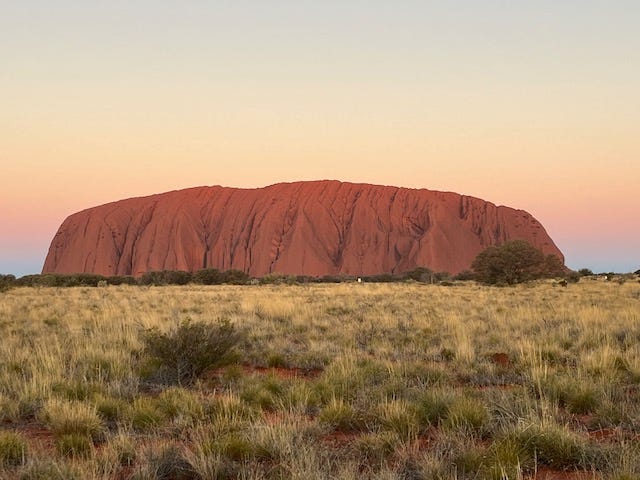 Day five, the last day and we were up at 5.30 to get to the Uluru sunrise. It takes a team spirit to do this three days in a row on holidays, and a team we had become. No one let each other down, boarding the bus at 5.45am to ensure we were in place for the 6.13am sunrise. After the sunrise, we walked around the base of Uluru and learned about the caves, the communities and the dreamtime creation stories before heading to the cultural centre to enjoy the artefacts and indigenous art.
Then it was farewell as we each headed in our own directions, with nine new friends and lots of photographs. I have to say, I'm impressed with the fact that Intrepid felt 'right' for me. It wasn't overly-luxurious or opulent (and we aren't opulent travellers), but it was certainly very comfortable. Our guide knew more about the local areas, landscapes, geography, history and indigenous culture than I would have ever dreamed, so I felt like I was constantly learning new things (which let's face it, isn't always the case on tours and holidays). The other people on the tour felt like approachable, active people, with a similar attitude to life, and some really interesting views and opinions, which made for scintillating conversations along the way. 
Takeaway lessons for choosing a tour operator
In chatting with the other tour members, we put together a list of lessons everyone should consider when booking a tour in your 40s, 50s or 60s… and maybe beyond. 
Know what type of travel you are physically capable of. Don't fib to yourself… 
If you are active and mobile, sign on for tours that use your physicality; if you are less active, look for an operator and route that has little or no hiking so you don't feel left out if you take the easy paths. Ideally you want to be where the guides are, not waiting on the sidelines. 
Understand the depth of travel you are seeking
If you are looking for touring that takes you off the beaten track, into the history, and culture and really immerses you in the outdoors, look for a company like Intrepid. If you frankly don't care much about immersion and just want to see the sights, you might consider a more whistle-stop tour. There's a huge variety of operators out there, and you might not recognise the difference if you don't look deeply. 
Understand the size of the tour group you'll be on
Speaking to the other guests on the tour, we were all pretty excited to be on a small group tour of ten people including the guide. It allowed us to get to know each other and enjoy each destination without 50 people getting on and off our coach. We saw plenty of larger tours moving through and each time, we smiled amongst ourselves, knowing how special it felt to not be herded like cattle. 
Look for touring companies that fit your culture and beliefs
Some companies are sustainable and ethical in their approach, others are just big, lavish or commercial. I was particularly impressed with our guide who explained why he doesn't do champagne at sunset overlooking Uluru, out of respect for the Indigenous people who gather to sell their artwork and have to remain 'dry' in these locations. This was just one example, and throughout the tour, we knew it was a complement to Intrepid and our guide Maurice. 
What an adventure huh! Thanks to Intrepid Travel for the warm welcome. Make it epic!
Bec Wilson Xx
---
Why it's time to get selfish about your superannuation
Major super funds have been joyously announcing their annual returns for 2022-23, and as they do so it provides an important opportunity for you to stop and take stock of your own super.
This article was published in both print and digital in The Age, The Sydney Morning Herald and Brisbane Times on Sunday 16th July 2023. read it here
---
BE:Better Better Reading Podcast featuring
How to Have an Epic Retirement
Bec Wilson talks to Jane Tara about money, health, happiness, and How to Have an Epic Retirement (at any age). Listen to the podcast here.
---
Get your copy now: 6 days until release!
Take advantage of the 19% discount Booktopia is offering right now.
I picked up my first copy of How to Have an Epic Retirement from my publishers in Sydney yesterday! Rather an exciting moment to hold it in my hands. It will be released in many many of our country's major bookstores on the 26th July. 6 days to go!